How Can I Get Rid of Camel Toe?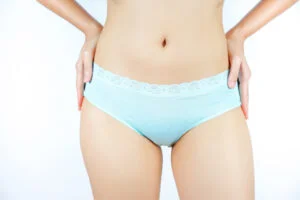 The appearance of a "camel toe" can make many women feel self-conscious, especially when wearing tight-fitting clothing like yoga pants or a bathing suit. Women often express how much they hate this undesirable body feature—characterized by a visible outline of a woman's external genitalia in clothes. Anatomically, this is typically caused by an enlarged pubic mound from fat deposits or from large or sagging labial tissue. Some individuals find they have a more pronounced camel toe after weight loss or pregnancy, making correcting it a common procedure for many mothers as part of the mommy makeover.
Many women try to camouflage their "camel toe" by wearing loose-fitting clothing or thin adhesive pads or panty liners to minimize the visibility of their natural curves. For those wanting a longer-lasting solution for their camel toe, our board-certified plastic surgeon, Dr. Steven Yarinsky, offers both non-surgical and surgical options.
When a camel toe is caused by elongated or loose labial tissues, Dr. Yarinsky may recommend the minimally invasive treatment known as ThermiVa®. This radiofrequency-based treatment stimulates collagen production and tightening of the internal and external vulvovaginal tissue. Patients with excess fat in the pubic mound or more advanced stretching of the labia majora may be better candidates for surgery.
Vaginal rejuvenation surgery has become increasingly common for addressing female intimate concerns like the camel toe. Liposuction may be performed to reduce excess fat in the pubic mound or labia majora for improved contours. Other patients may be better suited for labia majora reduction—with or without liposuction—which surgically reduces the size of the outer larger vaginal lips and eliminates the unwanted bulge.
The best way to find out which treatment option is right for your needs is to schedule a consultation with a board-certified plastic surgeon who specializes in feminine intimate surgery. They will evaluate your concerns and recommend the most appropriate treatment solution for your "camel toe."